Indiana | Illinois | Michigan



Indiana | 219-574-260 Area Code Split

2002: New Numbers, New Areas for Northern Indiana

On July 11th, 2001, the IURC held a random drawing to decide who would keep 219 and who would get a new areacode in Northern Indiana. The new numbers were assigned on July 3rd by NeuStar acting as "NANPA" (North American Numbering Plan Administrator) after IURC made the initial decision to split three ways on June 14th, 2001.

The new area codes were originally set to be effective on December 11th, 2001. 219 was to remain in use for transition until June 14th, 2002. On and after June 14th, 2002, the new area codes are required.

Upon later petition to the IURC LaPorte, Hanna, Rolling Prairie, Union Mills, and Westville were able retain the 219 and their ties to Michigan City (although Michigan City to Laporte remains long distance). In addition, Cromwell and Ligonier were moved to 260 to keep Noble County complete. In addition, the permissive start date was moved to January 15th, 2002 due to the holiday season.

The IURC had a website with more information on the process at:
http://www.state.in.us/iurc/telecom/41535/41535_index.html (content removed)

Unofficial Central Office Code List

A Brief History
What do you do when an area code 'fills up'? When all the exchange codes (the second set of three digits) within an area code (the first set of three digits) are all used and the supply is exhausted?

The primary options are to SPLIT the area into two or more areas, each with it's own code, or to OVERLAY a second number on top of the first.

The biggest problem with splitting in the 1948-2001 era 219 area code was that there were three large communities of interest; Fort Wayne, Gary-Hammond, and Elkhart-South Bend. Communities of interest like to share an area code, and while a split line has to be placed somewhere, keeping the larger communities of interest together is best.

Another option was an overlay. With an overlay existing users keep their current numbers and as needed new exchanges are added. The primary drawback to an overlay is that ALL users within the overlaid area MUST dial 10D numbers for ALL of their calls (an FCC ruling).

A split seems to be the best choice for a large area like Northern Indiana. All options require change, either a change in number and related stationary and advertising in a split, or a change in dialing habits for an overlay. Overlays can divide a community of interest into old and new NPA. Splits cause people to lose their old phone numbers (changing to a new number with the same last seven digits). With proper EDUCATION either option can work, the decision comes down to what is best for those within the former area code.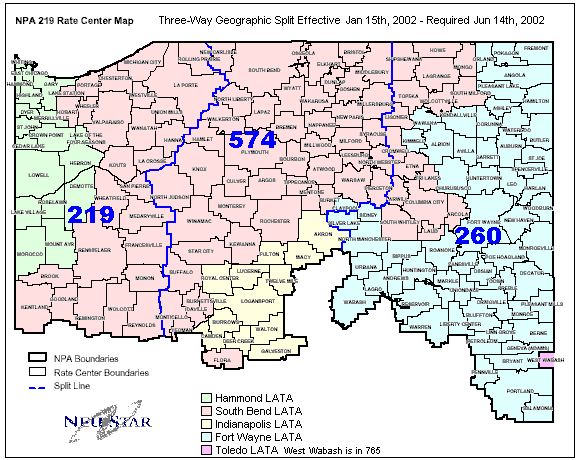 Base map from the IURC. Modified heavily for presentation here.
(See West Wabash note at the bottom of this page.)


After nearly two years of process, including a study by the industry (which officially recommended an overlay) and several public meetings, the Office of the Utility Consumer Council recommended a two way split. This was only a recomendation, the Indiana Utility Regulatory Commission (IURC) made the final choice. Disappointed with the short life of the 317/765 split (2001 estimates of 317 lasting five years and 765 lasting only seven), the IURC chose for 219 the option with the longest shelf life, over 20 years. On June 14th, 2001, the IURC approved a three way split. (The lines and start date were modified on October 17th, but the basic plan remains as approved of June 14th.)

The approved split keeps most local seven digit local dialing areas intact, and also generally follows county lines. The following images geographically show the makeup of the current 219.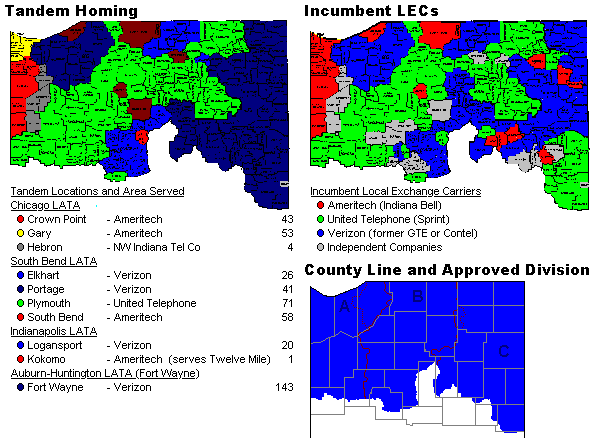 Each local exchange in each shaded area routes most 'long distance' calls through a "tandem switch" located in the cities shown. These are excellent places to choose as division points within the LATA for an NPA split, however Plymouth has a large geographic coverage area that is too big not to be divided. LATAs can be divided. Note the Indianapolis LATA has already been divided into three area codes (219/317/765) and Chicago (IL) has several area codes.

Service providers tend to publish phone books and to set up local calling plans within their own service areas. Keeping these local areas together can help customers with the transition to a new area code and remembering the divisions.

In addition, counties like to have the same area code cover the entire county. While this is not always possible, the county lines are shown.


After the numbers and areas were assigned, an education campaign followed, and in January 2002 the two new codes went into service. The old numbers continued to work until June while users learned the new phone numbers. After June 14th, those dialing the wrong area code heard a recording (for a 45 day post transition period).

260 was set aside as a relief code for Indiana 219 several years ago. Due to IURC's three way decision, NeuStar had to immediately add another code, they chose 574. While guessing relief codes is a popular pasttime this particular guess was special. The NANPA had no number assigned, so anyone's guess was valid! Plus what portion of 219 would get each code was unknown until the drawing, so a code would be needed that would be assignable to any area. Based on available codes and experience, a guess can be made.
In a private email I did manage to guess the proper code by elimination. Obviously if I was wrong you wouldn't see this blue text. :-)

Historical notes: 219 was a result of the first Area Code split, way back in 1948 when most users didn't know what an area code was. When the area code system was put in place in 1947 area code 317 covered central and northern Indiana.

AT&T was planning for the modern (post 1995) area codes that do not have a one or a zero in the center since the 50's or 60's. In their early plans, they had a specific order to assign new codes ... 260 was to be the first.

In addition, 616 in Michigan split in 2002. The southern counties bordering Indiana become area code 269. This makes 219/269 cross border numbering near Michigan City and 260/269 cross border numbering near LaGrange. 269/574 cross border numbering will exist along most of the Northern border with Michigan. (7D dialing across the line ended June 23rd, 2002.) (The NE corner with Michigan is 260/517 cross border.) Note: Very few communities can dial across the Indiana/Michigan state line as a local call. In those communities Indiana callers can dial the 10 digit telephone number to reach local exchanges in the neighboring code.
---
My Comments
| | | |
| --- | --- | --- |
| The IURC has done well. After holding public hearings with the OUCC they listened to the end users and chose the option with the longest life. (Although the OUCC suggested a two-way split they have joined in agreement with the IURC for the decision. The industry supported an overlay that would have only lasted 10 years.) The IURC also dodged a political bullet by allowing the choice of which area keeps 219 be decided by lottery. (This has met the expected critisism from those set on keeping 219 for their own.) At the end of the process, you won't be reading about an NPA change in Northern Indiana for a generation. That is rare with most of today's plans. In addition THEY LISTENED even after their decision was published and modified the plan to fit the consumer's needs. | | |
---
Older Information

Background
Industry officials are constantly monitoring the assignment of exchange codes - the first three digits of a seven digit telephone number. There is a limit of how many exchange codes are possible within an area code. In 1999 it was noted that 219 would soon be "full". According to the industry's 1999 data, around September in the year 2001, all the available exchange codes in 219 were expected to be used. Before the supply was completely exhausted, a new NPA would need to be put into use similar to the 1997 split of 317 into 317/765.

Immediate rationing of exchange code assignments was placed into effect. Thanks to these efforts of the industry, the exhaust date was extended. The new expected exhaust date for 219 (according to the June 1st "2001 NRUF and NPA Exhaust Analysis") was extended to the second quarter of 2003.

When introduced, the 219/260/574 split in 2002 is expected to extend exhaust for 20 more years. (Conservation and number pooling have extended the lifetime of the split to over 30 years.)
---
Details of the 219 split ...
Exchanges remaining in 219 (west):
Brook, Cedar Lake, Chesterton, Crown Point, Demotte, Dyer, East Chicago, Francesville, Gary, Goodlan, Hammond, Hebron, Highland, Hobart, Kentland, Kouts, La Crosse, Lake of the Four Seasons, Lake Station, Lake Village, Lowell, Medaryville, Merrilville, Michigan City, Monon, Morocco, Mount Ayr, Portage, Remington, Renssaelaer, Reynolds, Roselawn, San Pierre, St. John, Valparaiso, Wanatah, Wheeler, Wheatfield, Whiting and Wolcott.

Plus: La Porte, Hanna, Rolling Prairie, Union Mills and Westville.


Exchanges changing to 574 (central):
Akron, Argos, Atwood, Bourbon, Bremen, Bristol, Buffalo, Burket, Burnettsville, Burrows, Camden, Claypool, Culver, Danville, Deer Creek, Dunlap, Elkhart, Flora, Fulton, Galveston, Goshen, Hamlet, Idaville, Kewanna, Knox, Lapaz, Leesburg, Logansport, Lucerne, Macy, Mentone, Middlebury, Milford, Millersburg, Millwood, Monterey, Monticello, Nappanee, New Carlisle, New Paris, North Judson, North Liberty, North Webster, Osceola, Pierceton, Plymouth, Rochester, Royal Center, South Bend, Star City, Syracuse, Tippecanoe, Twelve Mile, Wakaursua, Walkerton, Walton, Warsaw, Winamac, Wyatt, and Yeoman.


Exchanges changing to 260 (east):
Everything else!

Plus: Cromwell and Ligonier.


---
West Wabash
I have left the graphics on this page as created in 2002, including the note about "West Wabash". The Wabash Mutual Telephone Company is a small co-op providing incumbent telephone service to one rate center in Ohio (419-942). As a small co-op they extended their lines across the state line from Ohio into Indiana. Most of the service they provide is in Ohio, however in 2001 there was evidence of an Indiana exchange (765-944) assigned to "West Wabash" (originally 317-944). It appears the separate exchange has been given up and customers in "West Wabash" are now assigned Ohio 419-942 numbers, despite their physical location in Indiana. As of this update 765-944 is an available exchange.

As 765-944, West Wabash represented a small island of 765 area code wrapped by 260 (formerly 219) in Indiana and bordered by 419 in Ohio. Now it represents a different oddity ... customers served by a phone number in a different state. There are not many customers in "West Wabash" - the primary customer is a large farming operation on the state line - but 419-942 phone numbers can be found in Indiana.