AllTel - Michigan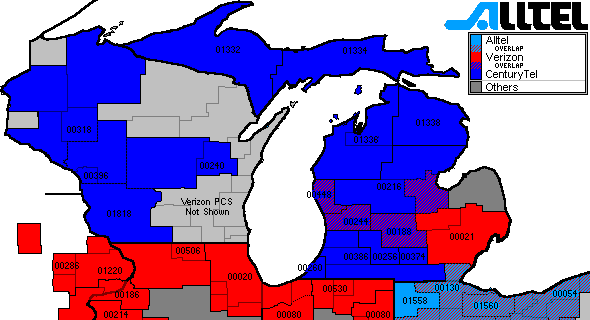 AllTel Wireless is a primarily cellular carrier with a lot of coverage across the United States. Most of their coverage came from purchasing other cellular carriers.
A major portion of AllTel was purchased from 360 Communications. 360 Communications was a short lived employee owned company that took over ownership of Sprint's cellular licenses when Sprint divested in order to take part in the PCS auctions.
In June 2000 AllTel had a major property swap with the forming Verizon Wireless. Verizon was forced by the spectrum caps of the time to divest properties where the former GTE, Bell Atlantic, AirTouch, and PrimeCo coverage overlapped. To satisfy the requirements, Verizon traded overlapped cellular areas to AllTel in exchange for some AllTel areas that filled in needed places in Verizon's coverage.
The June 2000 deal was when AllTel turned over their South Bend and Northern Indiana coverage to Verizon.
On August 1st, 2002, AllTel completed a deal to purchase all of CenturyTel's wireless licenses. The deal spawned out of a long attempt to purchase all of CenturyTel. As well as licenses in other areas of the country, CenturyTel was the original "B" carrier for most of Michigan and Wisconsin.
An additional influence on AllTel Wireless' coverage is its roaming agreement with Verizon. This roaming agreement was part of the market swap. It allows AllTel to offer its own national plans based on its own coverage and Verizon roaming in the same way that Verizon has built a national network out of their coverage and agreement with Alltel and others.
AllTel now owns and operates CenturyTel areas. The areas in Michigan are being converted to CDMA using SID 00244 (the former Grand Rapids SID) statewide on the CDMA systems. The former SIDs still remain on the AMPS systems.