Verizon Wireless - Midwest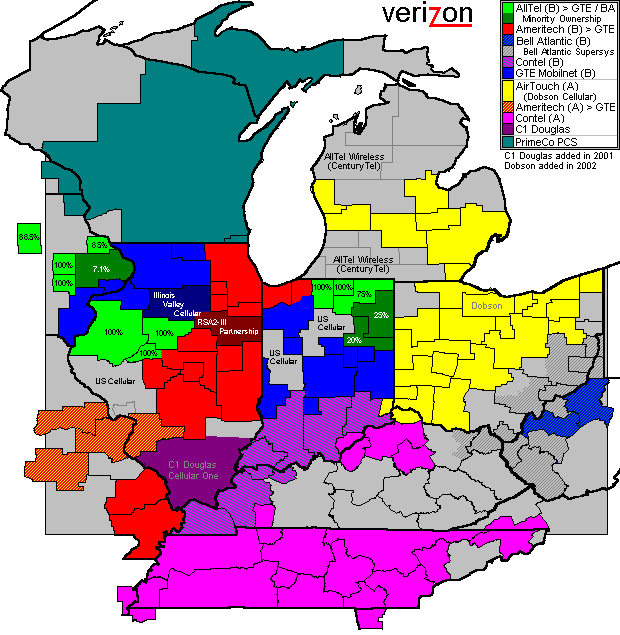 Verizon is the new name for the combined GTE and Bell Atlantic companies, effective when their merger closed in the year 2000. GTE's Landline properties (including those operated as Contel) were renamed "Verizon" while the Cellular and PCS properties became "Verizon Wireless".
Verizon Wireless also includes the properties of AirTouch and PrimeCo. Due to overlaps in service, some former PrimeCo areas were divested, and some GTE/BA properties will be traded to AllTel. At the time of the GTE/BA Merger the service area swap between GTE and Alltel will take effect. GTE gains the area in Northern Indiana as well as areas in Illinois and other states. GTE gives up coverage in Ohio (duplicated by AirTouch) and areas in other states.
The GTE owned Ameritech Chicago and Central Illinois service areas in Illinois operated by GTE since November 1999 also became part of Verizon's network. (GTE purchased Ameritech's properties when Ameritech divested them as part of the Ameritech/SBC Merger.) Verizon Wireless has since purchased the Dobson Wireless coverage in Ohio and the Douglas Cellular One property in Southern Illinois.
An additional influence on Verizon Wireless' coverage is its roaming agreements. One of the major partners is AllTel. As of August 1st, 2002 AllTel has purchased all former CenturyTel coverage, including coverage in Michigan (as shown) and Wisconsin (not shown).
The Verizon Communications and Verizon Wireless coverage in Indiana is shown here ...